When it comes to finding the best running shoes with wide toe box and narrow heel, only a few elite brands stand out in the field.
Asics, Brooks, New Balance, Hoka, Topo Athletic, and Altra are renowned for their dedication to crafting footwear that provides ample room for toe splay while ensuring a secure hold at the heel.
Join us as we explore these top-notch choices, where comfort meets performance, offering a running experience like no other.
But before you rush to invest in a new pair of running shoes, consider applying this lacing technique to your current pair. It might save you the expense of a new shoe purchase.
Related:
For more insights on the best running shoes suitable for wide feet with regular heel widths, be sure to explore our related article.
Best Running Shoes for Wide Toe Box and Narrow Heel
As an Amazon Associate, we earn from qualifying purchases.
Related:
Asics GlideRide 3
(Sponsored)
The Asics GlideRide 3 isn't just an innovative powerhouse; it's a dream come true for runners with wide feet and narrow heels.
For wide-footed runners, the spacious fit in the toe box is a breath of fresh air, allowing your toes to spread naturally but without the nagging worry of heel slippage.
Plus, the generously padded heel counter, collar, and tongue ensure a warm, secure upper fit, especially catering to those with narrow heels.
This shoe, introduced as a game-changer, quickly gained a devoted following among long-distance enthusiasts. Why? Well, it's packed with plush cushioning but doesn't compromise on speed and agility, a common pitfall with many max cushion trainers.
One of the standout features is its energy-saving design, courtesy of a clever rocker geometry that seamlessly guides you through transitions.
The midsole switch to FFBlast+ foam not only sheds weight but also injects newfound energy into your runs. It's 0.88 ounces lighter than its predecessor, making it a lively companion for various paces.
If you're a fan of long, leisurely runs, this shoe has your back. Its high toe spring and flexible EVA plate provide an efficient, forward-rolling sensation, much like carbon-plated shoes but without the jarring stiffness.
While the GlideRide 3 falls under the neutral trainer category, its stability game is strong. Your foot is snugly nestled within the midsole, and those raised edges act as guide rails, keeping your feet centered during transitions.
The transition to FFBlast+ foam may have softened the ride compared to its predecessor, but it now offers long-distance comfort and a livelier feel underfoot.
For runners seeking top-tier comfort, cushioning, and support for wide feet and narrow heels, the Asics GlideRide 3 is the golden ticket.
If the Asics Ride series confuses you, here's our thorough comparison of the Asics GlideRide vs Evoride. Give it a read as well.
Last but not least, the GlideRide's cushioning, stiff forefoot, and rocker technology make it a really nice shoe for runners with Hallux Rigidus.
Altra Torin 7
(Sponsored)
Slipping into the Altra Torin 7 is like changing from your stiff office attire into the most comfortable sweatpants at the end of a long day.
But there's more to these kicks than just coziness – the Torin 7 is a lighter-weight upgrade from its predecessor, shedding nearly an entire ounce in weight.
Now, when you slip into these shoes, it's not just about comfort; it's about the spacious yet secure fit they offer. The generous toebox allows your feet to breathe and move freely, perfect for wide feet, bunions, and those who like a bit of wiggle room.
But don't mistake this for a loose fit – the midfoot offers a snug, locked-in sensation, and the revamped heel collar cradles your narrow heel comfortably without needing to loop up the marathon laces.
All Altra shoes boast a unique feature: a zero-millimeter heel-to-toe drop, which they call "balanced cushioning." In simple terms, Altra says this keeps your feet naturally aligned throughout your entire stride.
What sets the Torin 7 apart is the extra two millimeters of Altra's famous EGO Max cushioning in the midsole. It's the Goldilocks of cushioning – not too soft, not too firm; it's just right.
If you're new to the world of zero-drop shoes, ease into them gradually over a few weeks.
Last but not least, the Altra Torin proves to be an excellent choice for 5K races, offering the ideal blend of comfort and performance.
But if you want to experience the same wide toebox and narrow heel benefits in a low-to-the-ground package, you can get the Altra Escalante. Just be sure to explore our comprehensive comparison between the Altra Torin and Altra Escalante before pulling the trigger.
Related:
Narrow feet overall? No problem. Discover our in-depth guide to the top running shoes tailored for narrow feet.
Brooks Adrenaline GTS 23
(Sponsored)
The Brooks Adrenaline GTS 23 is a stability shoe that understands the unique needs of both wide feet and narrow heels.
This shoe is a tried-and-true favorite, and in its 23rd edition, it's making subtle yet impactful changes. But here's the exciting part – those changes are designed to cater to runners with a variety of foot shapes.
First, if you're part of the wide feet club, you'll love the roomy toe box that allows your feet to breathe and spread naturally. No more discomfort, no more feeling constricted – just ample space for your toes to do their thing.
The Adrenaline 23 offers outstanding midfoot and heel hold. You'll experience a snug, locked-in feeling in the midfoot area and heel cup, ensuring your narrow heel stays securely in place during your run.
No more worrying about your heel slipping out and causing blisters or discomfort.
But the goodness doesn't stop there. Brooks' innovative GuideRail technology, present on both the inside and outside of the shoe, ensures your foot stays centered during your run.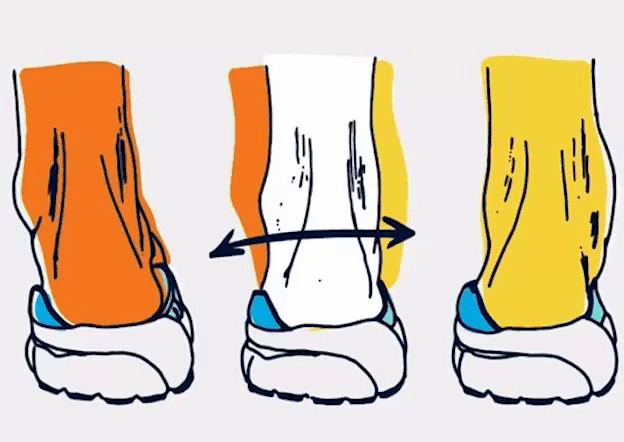 So, if you have flat feet and tend to roll inward, the Adrenaline will keep you on track. For those with high arches or supination, the lateral GuideRail prevents excessive lateral movement.
And guess what? This guidance doesn't interfere with your natural stride, so you can run comfortably and confidently.
The updated upper mesh, with its 3D stretch material, not only provides a secure fit but also accommodates various foot shapes, including bunions or areas that need a bit of extra stretch.
Underneath, the DNA Loft v2 offers a softer feel while maintaining the Adrenaline's signature support. It's like your shoe is custom-made to fit your foot perfectly.
Overall, whether you're a seasoned Adrenaline enthusiast or coming from the Asics Kayano or Mizuno Wave Inspire, seeking moderate support and ample cushioning, the new Adrenaline won't disappoint.
If the Adrenaline tickled your fancy, make sure you check the previous Adrenaline 22 and 21 comparison.
And for all you fans of the Ghost, this is essentially the stability version so make sure you read our comparison of the Ghost Adrenaline vs Ghost.
Related:
Recognizing the common sizing challenges that runners face, we've crafted an informative article that delves into a comprehensive brand-to-brand size comparison, helping you navigate the intricate world of shoe sizing with ease.
Hoka Clifton 9
(Sponsored)
The latest iteration of the much-loved Hoka Clifton, the Clifton 9, is here to elevate your road-running experience with a slew of remarkable improvements.
The Clifton 9 is more than a shoe; it's like a warm embrace from a long-lost friend as your foot slides into its soft, cozy interior. Your toes will revel in the ample room in the toe box, and the partially gusseted tongue ensures a snug, foot-hugging fit.
Now, here's where it gets even more exciting – the heel area in the Clifton 9 has received an upgrade, with added padding and cushioning. This is a game-changer for runners with narrow heels, offering the perfect blend of comfort and security.
The extra three millimeters of their plush compression molded EVA midsole foam is like a cozy cloud beneath your feet, ensuring a soft, velvety underfoot feeling.
Categorized as a neutral road warrior, the Clifton 9 boasts a truly unique sensation. It's a lightweight wonder with a gentle, inviting step-in feel, but here's the magic – the cushion doesn't lose its spring.
It provides the perfect balance of firmness for stability, delivering a touch of rebound and energy to catapult you into your next stride while shielding your feet from the harsh road terrain.
One of the standout features on the Clifton, just like in the Bondi, is the early-stage meta rocker – a signature of the Clifton series. This curved rocker design, positioned closer to the midfoot, makes transitions from heel to toe a breeze. You'll feel like you're gliding forward effortlessly, powered by this rocker technology.
In summary, the Hoka Clifton 9 is a dream come true for both neutral runners and those who don't require extra stability to combat overpronation. But here's the kicker.
It's an inclusive one, serving runners with both narrow heels and wide feet, making sure every stride is a pure delight.
If you want the stability version of the Hoka Clifton, you can check the Hoka Arahi. For a better understanding of the two shoes, here's the comparison of the Hoka Clifton vs Arahi and the Comparison of the Hoka Arahi vs Gaviota.
Related:
For those eager to uncover how the Clifton 7 and 8 stack up against each other, we encourage you to dive into our informative article for a thorough comparison.
Asics GT 2000 12
(Sponsored)
Calling all runners in search of reliable stability, the Asics 2000 is here to be your reliable daily trainer for those daily miles.
First off, the wider base provides adaptable stability, catering to your unique forefoot needs. Next, the GT 2000 12 boasts an engineered mesh upper, but what's truly exciting is how Asics is making the shoe more inclusive.
They're giving it a youthful makeover, making it approachable to a broader audience. The lean-back heel design not only reduces potential heel slippage but also minimizes irritation – a godsend for runners with narrow heels.
One of the standout upgrades includes the integration of a full FlyteFoam Blast+ midsole and PureGel. The FFBlast+ found in the Novablast 3, Nimbus, and Kayano, work their magic by offering a supremely cushioned and responsive ride. But the new Asics Novablast 4 features the new FFBlast+ ECO found in the Asics Gel Nimbus 26.
PureGel adds a touch of softness and extra cushioning, while FFBlast+ brings that cushioned comfort coupled with the responsiveness that runners crave.
But it doesn't stop there; the game-changing development lies in how they've reimagined stability. Say goodbye to Lite Truss and say hello to the all-new 3D Guidance stability, drawing inspiration from the Kayano Lite franchise's expertise in stability.
In essence, the Asics 2000 isn't just about stability; it's about adaptability and comfort. If you're a runner with narrow heels and wide feet, this shoe welcomes you with open arms.
Related:
Want to know more about the Nimbus? Dive into our comparison of the Asics Nimbus vs Asics Cumulus.
Mizuno Wave Rider 27
(Sponsored)
Mizuno's Wave Rider 27 is back, and it's undergone some significant changes in recent years. This flagship neutral daily trainer has evolved, finding its sweet spot for runners seeking both comfort and stability.
The upper of the Wave Rider 27 strikes a balance, feeling normal in width but offering a touch of stretch. It accommodates wide feet without feeling excessively roomy and offers a nice heel hold for your narrow heels.
The heel collar boasts ample padding, ensuring a secure and comfortable fit. The solid heel counter enhances heel lockdown, reducing the risk of slippage and discomfort.
With a 12mm drop, the Wave Rider 27 caters to those who prefer a higher-drop shoe. It's far from the clunky feel of older versions, providing a consistent ride. The Enerzy foam in the midsole offers protection without feeling too soft or too firm, delivering a comfortable balance.
While this daily trainer may not be ideal for speed workouts due to its weight, it excels in providing a plush, comfortable ride for easy-paced miles.
Just like the Brooks Ghost, the Wave Rider is an excellent choice for heel strikers, especially during slow-paced runs. Despite its neutral classification, it incorporates stability elements, like the decoupled heel and the prominent groove in the outsole.
Related:
New Balance 1080v13
(Sponsored)
New Balance's 1080v13 is here with the most significant update since version 6, offering a plush and responsive ride for both narrow heels and wide forefeet.
Moving up to the upper, you'll experience premium luxury comfort. The midfoot provides a medium fit, while the toe box is wider and roomier, allowing your toes to splay comfortably. The heel boasts plush, comfortable foam, ensuring a secure hold for those with narrow heels.
Every aspect of the upper is designed for comfort, justifying its higher price point. It offers a seamless and secure midfoot wrap, ensuring that your feet feel at ease throughout your run.
The 1080v13 is your go-to for daily training, recovery days, or long runs when you need ample cushioning and a premium, comfortable upper.
Whether you're a loyalist to the 1080 series or simply seeking a high-quality neutral trainer, this shoe excels in providing comfort and performance. It's the ultimate choice for pounding out those miles with confidence.
At the core of this transformation is the full-length Fresh Foam X midsole, delivering premium comfort and protection underfoot.
It's soft and squishy, reminiscent of the More V4, providing the cushioning you need for those long miles. In fact, the 1080v13 strikes a balance between protection and responsiveness, feeling notably nimble.
One remarkable improvement is the added forefoot stiffness, enhancing running efficiency and offering a snappy toe-off. It's effortless and efficient, making those easy runs even easier.
In terms of comparisons, the Asics Nimbus 25, the New Balance More v4, or the Nike Invincible 3 are close contenders, sharing similar stack heights and soft underfoot experiences, making them ideal for those extended journeys.
One last thing! If New Balance's numerical system confuses you, here's our comparison of the New Balance 1080 vs New Balance 880.
Related:
Runners, don't miss out on our detailed comparison between the New Balance 1080 and Saucony Triumph – it's a must-read for making an informed shoe choice.
Topo Phantom 3
(Sponsored)
The Topo Phantom 3 is a remarkable update in the Topo lineup, taking its place as a high-cushion, neutral trainer that balances lightweight design and exceptional comfort, ideal for a wide range of running needs.
The Phantom 3 inherits the coveted roomy toe box from its predecessors, allowing your toes to splay and find their balance. While it provides ample space upfront, it offers a snug fit through the midfoot and heel, delivering a secure and comfortable hold for your narrow heels.
The tongue, featuring two eyestays, keeps your foot comfortably secured, offering a lockdown fit while the molded foam collar adds to the exceptional feel especially around the heel
Central to this update is the new ZIP foam in the midsole. It's softer, lighter, and boasts higher rebound, enhancing your running experience with every step.
This configuration offers a delightful blend of softness and stability, ensuring that your foot sits within the shoe, not on top of it.
While it doesn't explicitly provide pronation support, the Phantom 3 maintains neutral stability, becoming a reliable daily trainer with its elevated midsole platform.
Moreover, the Phantom 3 features a lighter and more breathable upper, maintaining the comfortable and locked-in fit of its predecessor.
The Topo Phantom 3 continues its legacy as a go-to shoe for daily training, long runs, and recovery sessions, ensuring that runners with narrow heels and wide forefeet can enjoy a plush, comfortable ride.
To uncover the distinctions and commonalities between Altra and Topo running shoes, we invite you to explore our detailed, related article.
Here's where you can get your favorite shoes:
How to Choose the Best Running Shoes with Wide Toe Box and Narrow Heel
For runners with the unique combination of a wide forefoot and a narrow heel, choosing the right running shoes can be a game-changer in terms of comfort and performance.
Here's everything you need to know to make the best selection…
The Importance of Fit
The key to success for runners with wide forefeet and narrow heels lies in the shoe's fit. Look for models that offer a roomy toe box to accommodate your forefoot comfortably. This prevents constriction and allows your toes to splay naturally, providing better balance.
Secure Heel Lockdown
Given your narrow heel, it's essential to find a shoe with a secure heel lockdown. This ensures that your heel stays firmly in place during your runs, reducing the risk of slippage or blisters.
Midfoot Fit
Look for shoes that offer a snug midfoot fit to maintain stability while running. A secure midfoot fit complements your wide forefoot, creating a balanced and comfortable running experience.
Test Multiple Brands and Models
Remember that every brand and shoe model can fit differently. Don't hesitate to try on multiple options to find the one that suits your unique needs. Pay attention to how they feel and ensure they cater to your wide forefoot and narrow heel simultaneously.
Seek Expert Advice
If you're unsure which shoes will best serve your specific requirements, consider consulting with a knowledgeable salesperson at a specialty running store. They can offer valuable insights and recommendations based on your individual foot shape.
In conclusion, finding the ideal running shoes for wide forefeet and narrow heels requires attention to fit, comfort, and stability. Choose a shoe that strikes the right balance between roominess for your forefoot and a secure fit for your heel.
FAQs
Which shoe brands have a wide toe box?
Asics, Brooks, New Balance, Hoka, Topo Athletic, and Altra are renowned among runners for their commitment to crafting running shoes with wide toe boxes. These trusted brands have consistently delivered footwear that accommodates a variety of foot shapes, particularly those with wider forefeet, allowing for improved toe splay and enhanced comfort during runs.
Are wide toe shoes better for running?
Wide toe running shoes provide essential benefits to both comfort and performance. The roomy toe box allows your toes to splay naturally, reducing the risk of blisters, hot spots, and discomfort. they also improve stability by providing a broader base, enhancing your balance and preventing potential toe crowding. With more space, you'll experience increased breathability, which is vital for temperature regulation during runs.
What is considered a narrow heel?

In the realm of running shoes, a narrow heel typically refers to a heel width that measures less than the standard or average width found in most shoe sizes. A narrow heel may not provide the secure fit and heel lockdown that runners require, potentially leading to issues like slippage or discomfort during runs. Runners with narrow heels often seek shoes designed to offer a snug, secure hold at the back of the foot to ensure a comfortable and blister-free running experience.
Wrap-up
In conclusion, finding the best running shoes with a wide toe box and narrow heel can make a significant difference in a runner's comfort and performance.
Brands like Asics, Brooks, New Balance, Hoka, Topo Athletic, and Altra are celebrated for their commitment to crafting footwear that accommodates a variety of foot shapes, ensuring a balance of roominess in the toe box and a secure fit at the heel.
This harmonious combination of features not only promotes stability and balance but also reduces the risk of discomfort and blisters, making these shoes a top choice for runners seeking the perfect blend of comfort and performance on the road.