I know you're having a hard time finding some of the best running shoes with wide toe box and narrow heel that fit properly.
Sometimes, if you get a wider shoe you end up with your heels literally swimming in the heel cup. And if you get narrow shoes, your wider forefoot can't have enough room to breathe and splay.
The good news is you don't have to be frustrated anymore. The 10 shoes reviewed below have a wider forefoot and a narrow heel at the same time.
Let's dive right in …
In a hurry?
5 Best running shoes with wide toe box and narrow heel compared
| Altra Torin | Saucony Freedom |
| --- | --- |
| Neutral | Neutral |
| 0mm Drop | 4mm Drop |
| Breathable engineered mesh | ISOKNIT upper |
| Responsive Quantic midsole | Full-length EVERUN midsole |
| Footpod rubber outsole | TRI-FLEX crystal rubber |
| | |
Best Running Shoes With Wide Toe Box And Narrow Heel
Related: Best Running Shoes for Wide Feet Reviewed in 2020
Altra Torin 4 + Torin 4 Plush
This is a tale of two Torins.
Let me give you a quick synopsis of what Altra is all about if you're not familiar with the brand.
It's a smaller brand founded in Utah a couple of years ago. There's a couple of characteristics that you're going to find on all your Altra shoes.
One. A big foot-shaped toe box.
Two. A Fit4Her last. This means that Altra does not just take a men's shoe and pink it up, but they design their women's shoes in such a way to accommodate women's foot dynamics, which are a wider toe box and a narrow heel.
Three. A nice zero-drop platform. What that means is the offset from your heel and your forefoot are the same height off the ground. If you look at most of your traditional running shoes, they're sort of ramped and your heel is higher than your forefoot.
On Altra shoes, you're basically on the same platform going across from heel to forefoot, but we do have a nice bout of arch support in there.
Altra design these shoes originally for people dealing with things like Plantar Fasciitis, Morton's Neuroma, Metatarsalgia, and more.
So there's a lot of thought into the shape and design of Altra shoes.
Related: Best Running Shoes for Narrow Feet Reviewed in 2020
Altra Torin 4 Regular
The Altra Torin 4 regular is sort of their mid-cushion neutral road shoe. This is Altra's version of shoes like the Brooks Ghost.
A couple of things that I like about the Altra Torin 4 is the sizing is much better. If you've been running with Altra for some time, you'll know that depending on the model and the year, the sizing can be all over the place.
When I first tried the Torin 4, I went a full size up assuming that I was going to have to size up and I was wrong. The 11.5 actually fit me perfectly.
That's been nice and it helps shoe stores when they're pulling stuff for their customers and obviously helps you if you're shopping online.
Knowing that lots of runners struggle with sizing especially across brands, we've put together an article where we compare sizing between brands like Nike, New Balance …
Tongue
The other thing I noticed is this new tongue that the Torin has. It's got this cool tie design and it's sort of webbed on the side.
It has almost like a little bootie feel to it. It's not a full bootie where I might go sockless in it, but it's definitely more secured and seamed down on the side to give you a little bit better feel when you're snugging into your shoe.
Lighter, Snappier, Firmer, More Responsive
The Torin 4 regular definitely feels a little bit lighter and faster than other previous Torins.
If you're trying to figure out which Torin is right for you, the 4 regular is definitely the faster of the two.
I mean even the name Torin Plush makes you think it's a little heavier. The Torin 4 regular is going to be the faster one that you can get away with if you're looking for a 5k running shoe, a 10k shoe, or an everyday training shoe.
This is going to give you that responsiveness that you're looking for in a shoe and the cushion gets you longer miles. It's not like that speedster of the Altra Escalante, but it's going to give you that nice comfort and everyday cushion that you're looking for.
Feeling just a little bit firmer compared to some of the other high-cushioned shoes in the same category, you are going to get a little faster toe-off.
I put the Torin 4 on one foot and the Plush on the other and I could definitely feel that the Torin 4 regular is just a little bit snappier.
You can also feel that the regular is just a pinch lower. The stack height on the regular is two millimeters lower than the Torin Plush.
So you're just a little bit lower to the ground and that's sort of what you're looking for in that category.
If you're looking for that shoe to feel a little bit faster to get you through long miles but maybe not the marathon or longer, that's exactly what you're looking for.
Now that our size is better dialed in and the foot is nice and splayed, which is what we're looking for so we can get that nice appropriate toe-off, the Torin 4 regular is a great everyday shoe.
vs. Torin 3.5
The mesh on the Torin 3.5 kind of bunched up a lot and I could see people's feet kind of curving around into it. A lot of times, the mesh on the 3.5 was so loose and people's feet were sliding to the left and the right.
The new lacing system secures your foot much better. With those extra eye holes and that little web siding on to it, you really feel nice tight and secure.
Altra Torin 4 Plush
If the Torin 4 regular compares to the Brooks Ghost, I guess the Plush compares to the Brooks Glycerin.
Squishy
The name should give you everything you're looking for, plush. It's nice when you step into it and you do have that great step-in feel of feeling extra softness to it.
It's not nearly as firm as the Torin regular, but it definitely has a little more squish into it.
Upper
It doesn't have that mesh sewn into it on your step in and the tongue isn't secured on the sides like it is on the regular Torin. However, it still does have these little extra pieces to feel secure on the upper when you're stepping into it.
This would be a great shoe for some of the longer miles. It's certainly great if you want to run in something for every day for up to a 5k, 10k, half marathon, full marathon.
You can get away with the shorter stuff the Plush, but you are going to be dealing with a little extra weight.
The Plush is a little bit heavier, but it's okay, you definitely can feel yourself sinking, comfortable, plush, and secure in this shoe.
The Plush is also a neutral shoe so it's not going to support your feet much if you're somebody who overpronates or underpronates.
It just kind of lets you be you while still giving you that nice wide toe box, that nice neutral cushioned arch, and that zero-drop platform.
The Plush is a great shoe for those longer miles and soft days. It's also great for somebody that's going to be on their feet all day for work and want something that they can just be happy feet in.
The two Torins are a great option for somebody with some foot issues but they want something that's going to give them cushion, everyday support, and let their toes splay out a little bit.
It's also great if you have a wider fatter foot and if you're looking for a shoe with a wider toe box and a narrow heel.
Brooks Adrenaline GTS 20
The Brooks Adrenaline has been one of the top running shoes on the market for the past two decades.
Being at its 20th iteration, the Adrenaline is a go-to, which fun fact is what GTS stands for.
This shoe is refreshingly uncomplicated. The weight comes in at 10.6oz for men's size 10 and at 9.4oz for women's size 8.
The Adrenaline falls in the stability category with a 10-mm drop and it's designed for running on the track and the road.
Brooks has really pared it down to the essentials this year.
Related: Brooks Adrenaline GTS 22 vs Adrenaline GTS 21
Upper
So when we talk about the upper, a few basic overlays add a touch of structure to the midfoot but it's just to the medial side of the shoe.
This iteration of the Adrenaline feels just a tad roomier in the forefoot. That might be thanks to the little bit of stretchiness that we get in the mesh.
The heel cup has a really solid structure to help keep your foot locked in place and your heel secure. This is something that you want to have in a stability shoe, something to keep you from moving around too much.
The tongue is well padded, which helps to distribute any pressure that you might get on the top of your foot.
If you need a wide size in this shoe, good news because it is something that Brooks offers in the Adrenaline.
The Adrenaline is a much simpler design than it's been in the past and it has a really nice on-foot feel.
GuideRails
Traditional stability shoes will have a medial post, but the Adrenaline has a different approach.
Brooks is using their new technology called GuideRails as their answer to stability. The GuideRails system shifts the support focus from ­your foot to your knee.
Brooks says about 50% of injuries happen in the knees. They describe their GuideRail system kind of like bumpers in a bowling alley. As you're running, if your foot rolls too much to the inside, a medial bumper helps guide you to be more straight on as you're running.
Then, if your foot wants to roll to the outside excessively, the lateral bumper pushes it back.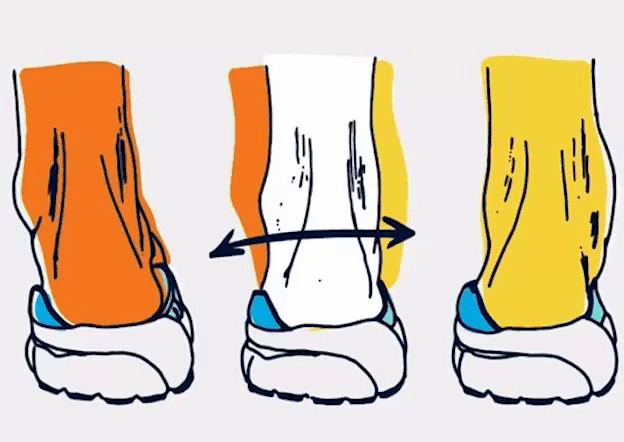 However, this GuideRail technology is not going to be in the way if you don't need it, but it's there if you do.
When you wear a stability shoe that's really built up there with that medial post, if it's not done correctly, sometimes it might give you a little bit of discomfort in your arch.
However, you won't feel any of that discomfort with Brooks' GuideRails in the Adrenaline 20. This system is really nicely done.
Midsole
The Adrenaline uses Brooks' tried-and-true BioMogo DNA foam and the DNA Loft foam. This is a combination of two foams to give you a really nice stable and responsive ride.
The DNA Loft is located only in the heel and doesn't run the entire of the midsole. As you land, you've got that little bit of a softer landing. It's right under that crash pad and it wraps around the heel.
Then everywhere else in the midsole is the BioMogo DNA to give great responsiveness.
Related: Brooks Adrenaline GTS 20 vs GTS 19
Outsole
The outsole is the same as it was in the Brooks Adrenaline 19. You still have the same flex grooves that give you a nice heel-to-toe transition that's super smooth.
Adrenaline GTS 19 vs Adrenaline GTS 20
If you like the Adrenaline 19, you're in luck because the GTS 20 is really similar.
Upper
The upper is not terribly different, but one of the things is that the mesh is slightly stretchier and we have a more stripped-down upper altogether. There are fewer overlays and just more of a simple clean look.
Heel collar
The texture of the heel collar padding is a little bit different. It's got more of a corduroy feel to it. However, Brooks uses a silky fabric to minimize any rubbing.
Laces
The laces on the 19 were flat, but the ones on the 20 are more of tubular type laces and they're also a good bit stretchier.
Weight
The weight of the Adrenaline is pretty much the same. The Adrenaline 20 is a teeny-tiny bit lighter. It's lost about .2oz for women and .4 for men's, which is not a noticeable difference.
Midsole & Outsole
The outsole and midsole of the Adrenalines are exactly the same, so no changes there.
To wrap things up, these are the things I really like about the Adrenaline GTS 20:
Stability. The GuideRail system is really top-notch. I found it super comfortable and it's kind of like a good friend or partner where they're there to give you some kind of guidance and support if you need it but they're not too controlling.
Upper. I really like the upper because it's really smooth and comfortable. It offers a roomy fit and a little bit of stretch. I also really like the clean and classic silhouette of this Adrenaline.
Midsole cushion. The BioMogo DNA and the DNA Loft systems are tried and true. It's a nice responsive cushion that people have really come to love. So, if that's something that you've depended on, you can count on here.
The Brooks Adrenaline GTS 20 is truly a go-to shoe because it's got that nice dependable stability without being too heavy, clunky, or stiff.
It's really nice and responsive and a comfy shoe.
I think you'll really like the Adrenaline 20 if:
you're somebody who needs a little bit of stability
you find the classic medial post uncomfortable and want to try GuideRails
you're a Brooks fan
you like a responsive ride
you're looking for a good trainer to run on the road or track
These are all reasons to reach for the Go-To Shoe Brooks Adrenaline 20.
Cons
Saucony Omni ISO 2
Right off the bat, the Omni by Saucony is a shoe that has been designed for someone with moderate to severe overpronation when they come through their gait cycle as they run.
As with most shoes from Saucony in their collection, this comes with an 8-millimeter offset ride.
The shoe has 29 millimeters in the heel and 21 millimeters in the forefoot for that 8-millimeter offset.
Size 9 clocks in at 11.7 ounces, which is not too bad for a stability shoe.
Midsole
Looking at the midsole, Saucony went ahead and used their PWRUN foam technology for the entire midsole.
On top of that, they added a top layer of EVERUN topsole to give you great energy return. What's cool about that is when you pull out the sock liner, you can actually see that top layer of EVERUN.
Medial Posting
Turning the shoe around to the medial side is where we see this is a stability shoe.
Saucony went ahead and put this marbleized firm support in to make sure the arch doesn't collapse coming through the gait cycle.
We've also got an external support frame to give you motion control and stability.
Upper
Moving to the upper, you will see a nice engineered mesh coupled with fused FLEXFILM overlays for lockdown, stability, and reduction of weight.
So the shoe allows for fewer overlays in the shoe so that way it's more seamless and flexible.
As we move from the toe box all the way up to the ankle collar, Saucony utilizes their ISO lacing system which allows you to customize how you want the laces to fit for that secure locked down one-to-one feel.
The inside is a smooth fabric lining as well and you've got a removable foam insole for that extra layer of cushion.
The insole inside of the shoe is your typical EVA sock liner. This is Saucony's FORMFIT Performance contoured footbed.
ISOFIT
ISOFIT is the soft inner sleeve and floating support cage that's combined to make that dynamic fit system so that way it adapts to the shape of your foot and the motion of your foot, too.
It easily laces up and you have some great padding around the ankle and tongue for comfort.
Outsole
The outsole is using what Saucony calls their TriFlex rubber. This rubber is meant to increase force dispersion over a greater surface area while also delivering optimal flexibility in traction.
When I feel this rubber with my hand, this is some serious heavy-duty rubber. I would not be surprised that this rubber could last a thousand miles. However, keep in mind that you always want to switch out your shoes every 350 to 500 miles.
In conclusion, I think the Omni ISO 2 will compete with the Brooks Adrenaline and the New Balance 860.
If you are already running in a stability model, give the Omni ISO 2 a chance and you won't be disappointed.
I just really think with this nice plush ankle collar and that top layer of EVERUN to alleviate the pounding on your legs, this could be a great option.
Asics GlideRide
The Asics GlideRide fits your narrow heel, high arch, and wide forefoot well according to this review on Amazon.
The GlideRide is a classic example of a company taking an existing shoe, making refinements, and ending up with a better shoe.
The GlideRide is the shoe that I wish the Nike Zoom Fly has always been. It took all of the problems I had with the Zoom Fly and fixed them.
It's a softer, more stable version of the Zoom Fly with a comfortable plush upper and you still get the propulsive feel inside.
Related: Nike Pegasus Turbo 2 vs Nike Zoom Fly 3
Upper
The GlideRide's upper is extremely structured on both sides. It might be one of the most structured uppers I've ever run in.
The upper is made from engineered mesh that doesn't stretch and is smooth inside the shoe. However, this thick mesh and the structured upper means that the shoe runs on the warm side.
The unsleeved padded tongue and the heel counter are generously filled with foam.
The tongue doesn't move around at all during runs and the plastic clutch external molded heel counter secures and locks down the heel really well.
There are reflective overlays by the laces and around the counter for better nighttime visibility.
The GlideRide fits true to size and the toe box has plenty of depth and foot splay room.
Related: Asics Evoride vs Asics Glideride
Midsole
The GlideRide has a dual foam setup of FlyteFoam Propel and FlyteFoam.
The top part of the midsole is FlyteFoam which is firmer and more responsive and the bottom part is FlyteFoam Propel which is softer and bouncier.
The GlideRide is a cushioned shoe and the FlyteFoam is much softer than the React foam used in the Zoom Fly 3.
The combination of these foams provides a great balance of cushioning for comfort and firmness needed for the plates in the shoe to work.
The GlideRide is a really unique tune and the longer you run in it, the better it feels.
Outsole
The outsole is full-contact blown rubber. Asics says that it's an AHAR rubber sponge, but it's definitely not the same AHAR rubber used on the Cumulus or the Nimbus series.
The rubber does grip well on wet and dry surfaces, though.
The Guidance Line that runs through the length of the outsole helps keep the foot centered.
When the shoe is loaded, the exposed area in the Guidance Line touches the ground. This gap in the outsole provides extra cushioning.
The GlideRide has a high toe spring because of the rocker geometry it has.
This upward angle is how the shoe rolls you forward along the front of the shoe instead of flexing like with most shoes.
The GlideRide is cushioned enough for long marathon distances and responsive enough for tempo workouts.
If you didn't like the Nike Zoom Fly, then you should try the GlideRide because the latter runs rings around the Zoom Fly.
This shoe is softer, more stable, more responsive, more comfortable, and cheaper than the Zoom Fly 3.
The Asics GlideRide is super fun to run in and it's hands down one of the best daily training plated shoes on the market.
Cons
rocker bottom might require some getting used to.
a bit pricey.
Hoka Clifton 6
Read Hoka Clifton 6 Full Review
A Little History
The Hoka Clifton 2 was actually one of the best shoes in the past couple of years. It was the one that won a lot of awards for Hoka.
Throughout the years, Hoka has sort of made some changes on that shoe and it seemed like the Clifton was getting firmer and firmer.
The Hoka Clifton 4 was like a rock under your feet. It seemed like all of the cool characteristics about the Clifton and the Clifton 2 had gone away.
Well, I'm happy to say that the new Hoka Clifton 6 feels like the old Clifton 2 in a lot of ways.
Updates
A couple of little changes from the Clifton 5 to announce just so people who have been coming through the generations of it can know, the Clifton 6 actually got a little bit lighter.
Usually with Hoka, the sizing was really dialed in and the Clifton 6 runs true to size.
The 6 still has a lot of the same characteristics as far as the stack height. It's still coming in with a five-millimeter heel-to-toe drop. So the offset and the height of the cushion haven't changed much.
Meta Rocker
The idea behind the Meta Rocker platform is when you land, the shoe immediately just smoothly gets you from heel to toe.
That's why not only is the Clifton one of the best shoes for runners specifically doing longer stuff, but also people on their feet all day like health professionals, chefs, teachers, you name it.
Neutral
The Clifton 6 is a neutral platform shoe, so it's great for somebody who has just very bit of mild over or underpronation, but not too severe.
Almost all Hoka shoes have a little bit more of an arch than most shoes. So if you're coming from a traditional shoe like a New Balance 1080, Brooks Glycerin, or something that big max cushion neutral platform, the arch is just a little bit higher, but it's not a firm arch, either.
If you are looking for something firmer and more stable from the Hoka family, there are certainly other options out there you can check out like the Hoka Arahi or the Gaviota.
Related: Hoka Clifton vs Arahi Series
Active Foot Frame
You might think that such a high stack height might just be unstable. The thing is your foot is not actually on top of this oversized midsole but inside it. The foot rests inside a kind of saddle called Active Foot Frame that just acts like a canoe to give your foot a little bit of inherent stability.
Who is it for?
The Clifton 6 is great for somebody who's going to be walking, running on longer distances, and someone who wants to have that smooth transition from heel to toe.
Anybody who's been in the Clifton series for a while is going to be happy with the new updates especially how soft it is compared to previous models.
Widths
Another nice thing that's been newer for the Hoka Clifton franchise is the shoe is now available in widths.
Hoka has only been doing wides for about a year or two years now so it's nice that they're changing.
For the women's, they're doing a standard B and D for their wide, and on the men's, it's a D and a 2E.
There is talk of bringing in even wider on both the men's and the women's going up to a 4E for me and 2E on the women's, but for now, it's a D on the women and a 2E on the men.
Cons
might require break-in period
If you need even more cushioning, we've done a comparison of the Hoka Clifton vs The Bondi series.
Brooks Ghost 12
Read Brooks Ghost 13 Full Review
The Ghost 12 is your go-to daily mileage grinder and a workhorse shoe. Think of it as a jackknife of Brooks lineup. It is a neutral cushioned shoe weighing in at about 10.4 ounces with a 12-millimeter drop from heel to toe.
I put the Ghost through quite a few different tests, some long runs, some shorter runs, some tempos, some interval, sprints, what not. I even did some body exercises like some eight counts, mountain climbers, a little bit of weights.
The point is, no matter what I threw at the Ghost 12, it handled it just fine and it felt good the whole time.
Now, let's start from the bottom and kind of work our way up and explain why the Ghost is one of Brooks' best-selling shoes.
Midsole
In the heel, you have a DNA Loft midsole composite, which creates a soft landing and a smooth transition as your gait moves forward into your midfoot and forefoot.
At the midfoot, you see the BioMogo DNA which is a firmer and more responsive cushioning that relates in a quick toe-off. These DNAs do help the shoe to adapt to your foot over time.
Again, BioMogo DNA is a little bit firmer resulting in higher turnover because you have a quicker movement to the big toe.
The shoe is cushioned but not so much that you feel sinking or dragging weight behind you. But if want a softer and higher stack cushioned ride, you should be looking at the Brooks Glycerin 19.
It has a wide toe box, it's plush on the heel, and it's quick off the toe in the midfoot.
It's great for low miles, high miles, slow runs, a bit of fast runs, and everything in between. But people who like a firmer quicker transition can either look at the Brooks Launch 7 or the Revel.
Outsole
I don't think that that absorption is going to take too much momentum from you because Brooks threw in this harder tread on the rear of the outsole.
The rubber on the heel, besides having grip, is a little harder as I mentioned and that provides a little bit of feedback.
So even though it's taking some of the blow and it has a good cushion to it, that feedback keeps you moving the whole time.
The tread up front is a little bit thinner and has some good flex grooves on it. The forefoot is also softer and has an amazing grip the whole time.
You can take the Ghost out on some rainy runs, on asphalt, pavement, brick roads, even across some metal areas, and your feet will never slip.
That's very nice to have underfoot because when it's raining, you don't want to slip and you want to get home safely.
Upper
Moving up to the upper, this engineered mesh wicks moisture very well. It doesn't breathe ver well, but your feet also won't really get hot too much and won't get too wet, neither.
With the wicking, as you start to keep going and putting some more mileage on, it's going to help keep your feet dry and you really want that.
The cushion on the inside, especially on the heel, is a little bit thicker on the sides.
However, the cushion around the heel is a little bit different. Even though it's thicker, it works very well on the heel.
While it does a great job at securing your heel, you won't notice it rubbing or anything like that the whole time especially during the breaking period.
The shoe has some reflective panels on the toe box. So if you're running at night, then cars can spot easily.
Cons
colors are bland and uninspired
Last but not least, the Ghost is one of these great 12mm drop running shoes.
Altra Paradigm 4.5
The Altra Paradigm is has a good narrow heel cup and wider knuckle area. It has enough room on the outside edges that most shoes tend to chop off.
Read Altra Paradigm 4.5 full review.
Saucony Freedom ISO 2
Back with an all-new design, the Freedom ISO 2 takes the essence of its predecessor and offers small changes to further enhance performance and comfort.
If you liked the first edition of the Freedom ISO, you're definitely going to like the second one.
The Freedom ISO 2 features a 4-millimeter drop with 22 millimeters of cushioning in the heel and 18 in the forefoot. It is exceptionally light and comes in at 9.10 ounces for a men's size 9 and 8.2 ounces for a women's size 8.
Best of all, this sleek-designed looking shoe is exceptionally breathable and comes in a number of exciting colorways.
Midsole
The Freedom ISO 2 features a full-length EVERUN midsole that offers
In the midsole, we see the continued use of a full-length EVERUN material to create exceptional cushioning and enhanced responsiveness.
The new design offers a contoured shape and higher sidewalls to improve the underfoot feel and create an ultra-smooth transition.
Outsole
The shoe continues to use a sticky crystal rubber TriFlex outsole, which means it's going to have great durability and last for many many miles possibly up to more than 600 miles. Also, the addition of strategic flex grooves in the forefoot and heel create added flexibility.
Upper
For ultimate comfort, the Freedom ISO 2 gets an upper overhaul. The overall design is fairly similar to its past version, but the use of a new ISOKNIT helps create a superior sock-like fit and feel with increased support and breathability.
This is a great combination of materials and engineering that creates ultimate comfort, support, breathability, freedom of movement, and minimal chafing within the upper.
Plush cushioning, exceptional energy return and ultimate comfort make the shoe ideal for easy days to speed workouts to performing on race-day.
Make sure you check these great speed running shoes.
For those who already love Saucony, this is the perfect hybrid between the durability of the Saucony Ride ISO 2 and the speed and responsiveness of the Saucony Kinvara 11. The result is a Freedom that is great for a quick tempo or performance and racing.
Combined, the versatility, durability, and ultimate comforts of the Freedom ISO 2 make this shoe a must-have for your rotation.
Cons
Saucony Kinvara 11
Read Saucony Kinvara 11 Full Review
The Kinvara 11 has a 4-millimeter drop and a size 9 comes in at 7.8 oz.
Upper
The Kinvara has the FORMFIT upper which wraps around your foot pretty well.
I wouldn't say the upper is super forgiving, so when you buy this shoe and you lace it up, make sure that you buy it true to size.
Again, it's not going to have a ton of give, but it will fit your foot just right if you get the right size.
Sticking with the upper, Saucony has risen the heel counter slightly to wrap onto your Achilles a little bit more.
There's a band that wraps around the heel counter that kind of serves like one continuous wrap around your heel, which kind of reinforces that hug on there.
So when you're lacing in and you're really tightening down these laces, that's going to help with securing your heel so you're not going to have any heel slippage in this shoe.
The tongue is attached on both sides, which just helps with the lockdown there. It has that breathable and moisture-wicking material all throughout.
It's a pretty thin tongue that goes really well with those flat laces. The laces give you a really secure fit without kind of feeling bulky like round laces do.
The tongue and laces kind of give you a sleek feel and a sleek look, as well. I would say the Kinvara 11 is a great all-around shoe and I love how it feels on the top of your foot.
When you go on longer miles, sometimes your foot might swell up a little bit and your shoes get a little bit tighter consequently.
The Kinvara doesn't get too tight on top. It's going to secure your foot in really nicely and you're not going to feel that swelling.
Midsole
The Kinvara uses the PWRUN midsole which I think is fantastic. It's super responsive and it's not like the most cushioned shoe.
If you're looking for extremely soft cushioning, you have the Saucony Freedom 2 and the Saucony Triumph 17. These shoes run on the PWRUN+ cushioning material that feels like running on clouds.
PWRUN+ is great for your recovery days, rest days, and just long miles.
The Kinvara 11 is a little bit quicker and the PWRUN foam is a little bit firmer than the PWRUN+ and it's a lot more responsive.
This shoe is great for a marathon distance, half marathon distance, this is the perfect shoe for going distance.
Before you get into the super-fast pro racing shoes like the Reebok Nano Run Fast Pro, this is like the perfect average marathon shoe that I would recommend most people get.
Outsole
There's not much going on there. The outsole is 99% bare PWRUN midsole cushioning with some XT900 rubber in the forefoot and the outside of the heel.
Cons
Brooks Launch 7
Read Brooks Launch 7 Full Review
The Launch 7 is a no-frills, no bells and whistles neutral running shoe that is really affordable.
If you're walking into a run specialty store, I don't think the wall does not have the most-bang-for-your-buck Brooks Launch.
Let's get into the overall tech specs and see how the Launch differs from Brooks Ghost, the Glycerin, or even their Levitate series.
The offset is 26 millimeters in the heel and then 16 in the forefoot. Subtract both of those and you'll have a nice 10-millimeter offset ride.
Brooks is letting us know that a size 9 weighs in at 9.6 ounces, which is a really nice weight for such an introductory trainer.
Midsole
The midsole of this Brooks Launch 7 is that EVA foam from Brooks that they call their DNA BioMogo foam.
This cushioning setup is not that crazy spongy soft DNA Loft that you'll see in the Ghost or the Glycerin, but it gets the job done.
Upper
Moving from the midsole to the upper of this Brooks Launch 7, we're going to see a single layer engineered mesh that's laid over an internal bootie system to create a snug and breathable wrap.
The internal bootie system is going to create additional comfort in a sock-like fit.
What I also like about this no-frills trainer is that there's not going to be any sort of stitching because Brooks wanted it to be as lightweight as possible.
So, both the logo and when you move from the reinforced toe box up the laces to the tongue, you'll see that everything is fused on with either glue or whatever type of fusing materials that they have.
And as we flip to the heel, we'll that that Launch 7 logo is actually a sort of fused placement to cover up the stitching where the heel counter is met.
The heel features that internal heel counter which will lock in your heel and then when you tie the laces, you'll have that nice one-to-one fit.
So the narrow heel and wider toe box make the Brooks Launch 7 one of the best budget shoes for narrow heels and wide toe box.
Outsole
On the outsole, there's that HPR Plus which is Brooks' high-abrasion resistant rubber for long-lasting durable traction.
The full layer of durable rubber on the outsole makes this shoe really adaptable for a variety of workouts, distances, and terrains.
There's going to be that DNA call-out on the foam to just let you know that this midsole is that BioMogo DNA.
Once again, if you've run in the Ravenna and you're familiar with the setup of the outsole and the midsole, that's exactly what you're getting with the Brooks Launch 7.
Like I mentioned before, the Brooks Launch 7 is probably the best money can buy. You're going to get a great shoe that's going to last anywhere from 400 to 500 miles.
Family of Shoes
One thing I wanted to mention that Brooks is doing is they're creating a neutral line and a stability line that literally mirror each other just without GuideRails.
Let me break this down for you real quick. If you look at the Ravenna 10, it's the Launch 7 with the GuideRail support system.
Then you move up to the Ghost. The Ghost has the DNA Loft in the heel but nothing in the forefoot, and if you look at the Adrenalin GTS 20, it's the Ghost with GuideRails.
Then, Brooks' high-cushioned shoe, the Glycerin, has full-length DNA Loft but no GuideRails.
But if you want full-length cushioning and stability, you go for the Transcend that has full-length DNA Loft and GuideRails.
So, I really like that Brooks is kind of moving to this because it really kind of unites their lines and brings them all together.
It's like Bam Bam Bam neutral, Bam Bam Bam stability.
Cons
a bit stiff and unforgiving
I hope you find one of these running shoes with wide toe box and narrow heel helpful so that you can keep doing the sport you actually love, running.
Stay safe 🙂
Best lacing technique for wide toe box and narrow heel