In today's epic shoe battle, we've got Hoka vs Brooks.
Whether you're a competitive runner or a lifestyle runner, one thing is universal – you have to replace your shoes a lot. If you're putting in 20 miles a week, that means you're going to get about 2.6 pairs a year.
So, Hoka and Brooks know that if they could earn the frequent runner's trust, they have a shot at selling 2 to 3 pairs of shoes a year, and many people run and stay active through their whole lives.
How did both companies win the hearts and minds of runners and gain a good market share?
Spoiler alert, although Brooks has been around longer than Brooks, Brooks almost went bankrupt if it weren't for their new CEO Jim Weber who managed to bring the company back from the dead.
Let's dive right in…
Hoka vs Brooks
As an Amazon Associate, we earn from qualifying purchases.
The upswing of Hoka and Brooks is largely a result of the brands being able to accommodate for all categories of runners.
So, whether you're:
A beginner runner
An elite runner
An injured runner
An overweight runner
An underweight runner
… the two brands have got you covered.
So, when we're seeing which brands are growing the quickest at the moment, the likes of Hoka, Brooks, and Saucony are the brands that are accommodating for all categories.
Related:
The Hoka Arahi, Hoka Gaviota, and the Brooks Adrenaline are three of these great running shoes for flat feet. Give it a read!
Hoka vs Brooks – Quick Comparison
In a hurry, here are the main differences and similarities between Hoka and Brooks…
Brooks are more durable than Hokas
Brooks have better cushioning setups (DNA Loft v3 & DNA Flash)
Hokas have a better cushion-to-weight ratio
Brooks have a better in-shoe feel
Both have plusher versions
Brooks have a better overall quality
Both have fun-to-run-in models (Hoka Mach / Brooks Hyperion)
Hoka have better max-cushion shoes (Bondi)
Hoka has better run/gym shoes (Kawana & Solimar)
Brooks fit better and are better shoes for wide feet
Both have good lockdown
Brooks have better upper technologies (new StealthFit upper)
Hokas have better rocker geometry
Brooks have better stability/support models (Adrenaline, Glycerin GTS, etc)
Brooks GuideRail support system is better than Hoka's J-Frame support system
Hoka has better trail shoes (Speedgoat)
Hoka have better sustainable shoes (Ghost 14)
Brooks are more affordable
Related:
Hoka in short
From the very beginning, Hoka's key distinction has been that their shoes are much better cushioned compared to their competitors.
Because of their chunky midsoles, a lot of runners classify them as maximalist shoes as opposed to minimalist shoes that were so popular about 10 years ago.
Hoka bet on the proliferation of 2 key trends that lead to the same need:
The need for maxed-out shoes to provide better shock absorption on the roads and trails.
The growing number of overweight people.
… and do you know what people with extra weight need? You guess it right… more cushion in their shoes.
One of the things that I thought was really interesting looking at their financial statements is that it seems to me that right now Hoka is about $500M yearly sales company.
And one of the things they have as a goal for the future is to turn Hoka into $1B dollar-a-year brand.
I think that the main way that they're going to be doing that is by providing performance at the core of their product promise, but I think that they also have to expand to different core categories as well other than trail running.
Over the past few years, Hoka has made some shoes that were a real surprise. I'm talking about:
Hoka TenNine
Hoka Kawana
Hoka Solimar
Hoka x thisisneverthat Speed 4 (collab)
But whether they were good or bad, each of these shoes has had me wondering why these shoes are here, and what it means for Hoka.
For more details on collaborations, you can jump down to "Which company has better collabs?"
Brooks in short
Right before 2001, Brooks had been a traditional athletic footwear and apparel brand. Just like Adidas and Nike, they had products in almost every category and every sport:
Running shoes
Walking shoes
Baseball cleats
Football cleats
Basketball shoes
Court shoes, etc.
It was a challenging puzzle for Jim Weber because they needed to find a place to win after all the other running shoe companies had been doing great.
What Jim did was very bold. First, he got rid of everything that wasn't related to running, which was 50% of their product line and about 45% of their sales. That's huge!
They also got rid of their biggest customer Big 5 because they were positioned as a $30 shoe there. So, they decided to focus on performance running shoes which were $80 and up and had good margins.
It was a bumpy transition because no one in the industry had ever really done that before. Jim was pretty confident it would work because he'd done the analysis. And yes. It worked big time for them.
Overall, Jim Weber took Brooks from being a mediocre shoe brand to a market leader in running shoes and apparel.
How?
By focusing on running shoes and discontinuing some product lines. This is how Brooks were able to generate over $1B in revenue per year.
Last but not least, Jim also says that the development of their Adrenaline GTS running shoe really saved the company.
For more details on the history of both companies, you can jump down to the "History" section below.
Now for the fun part, let's talk about the midsole…
Which Company Has Better Cushioning?
Brooks' Cushioning
Brooks has Cushion, Energize, and Speed as their cushion categories.
The Cushion category is just like it sounds. It's softer and more protective. It's there to cushion and pad that run whether you're on concrete or a treadmill.
Energize is about energy return. As you land, the foam is going to take that force and give you a little more of it back. It really feels like a spring.
Speed is for that person who wants a little bit of zip. This is great if you're trying to be competitive and you want that light and barely-there kind of feel that's still going to be there to help push you to a better time or a faster speed.
DNA Loft V3
The v3 first debuted on the Aurora BL and it is essentially that supercritical nitrogen-infused foam which Brooks is calling their softest midsole cushioning setup ever
Generally, the durometer of the DNA Loft v3 is about 33 softness, but it's 29 on the Glycerin and 31 on the Caldera, which is pretty close to Nike React for example.
Brooks is implementing the DNA Loft v3 on the Glycerin and Caldera using two different ways mainly because of the drop and geometry of both shoes.
The midsole on the Glycerin doesn't compress too much yet makes you feel like it has quite some cushion and shock absorption to it.
This new nitrogen-infused DNA Loft v3 is lighter, squishier, bouncier, more responsive, and more importantly more durable compared to conventional EVA foams.
The latest Glycerin, Glycerin GTS, and Caldera 6 all feature the DNA Loft v3.
What's interesting is that the DNA Loft v3 on the Glycerin is not as lively as on the Brooks Aurora BL mainly because on the Glycerin, we have a lot more rubber on the outsole, which kind of dulls down the experience.
With DNA Loft v3, the Caldera manages to feel very nimble. It's one of the most cushioned trail shoes on the market, but it can still perform on some of that technical terrain while also working for some of those lighter trails as well.
Related:
Here's a video that better explains what a nitrogen-infused foam really is…
DNA Loft V2
DNA Loft v2 is a mixture of rubber, air, and EVA foam. Brooks is still using the DNA Loft v2 in the Brooks Ghost 14 and 15 which are both 12mm drop shoes. However, the Ghost 15 is going to be a little bit softer and lighter compared to the 14.
According to Brooks, DNA Loft v2 is a less dense foam compound, thus making the Ghost 15 a softer and lighter experience compared to the 14.
Overall, Brooks have a bunch of different versions of DNA that they've been going through over the years and the DNA Loft v3 is by far the softest and squishiest from Brooks.
Related:
DNA Flash
DNA Flash is Brooks' other supercritical nitrogen-infused foam. According to Brooks, this is rated to last anywhere between 200 and 400 miles.
For example, the Hyperion Elite 3 still features DNA Flash plus a carbon fiber plate. The plate really does stiffen up the shoe itself and provides a very rigid experience.
The DNA Flash foam is going to be very firm. While it's fun to run in, it's just not the fastest or liveliest experience underfoot mainly because the foam isn't the bounciest and doesn't have the most energy-filled experience to it, especially when we compare it to those other top-tier racing shoes.
Related:
Hoka's Cushioning
CMEVA
Year after year, Hoka shoes have always maintained those core philosophies. In terms of the midsole, we still have maxed-out stack height in most of their shoes.
Just like the newest Mach 5, the Bondi 8 takes philosophies of some of those older versions but just makes small tweaks to the EVA foam to further enhance it.
Their compression-molded EVA (CMEVA) is now even lighter, a little bit softer, and a little bit more resilient.
Overall, you're just going to get a much better underfoot experience while still having kind of that soft plush over-cushioned feel.
Related:
ProFly+
This is a new foam for Hoka which is an update to their dual-density EVA foam system.
Basically, there's a lower layer that is a little bit firmer of an EVA-based compound that's designed to give a little bit more responsiveness and also a little bit of that protection from rocks.
On top, there's a softer layer which is the part that makes that ProFly+.
So, this is a supercritical foam which gives the Mafate Speed 4 for example extra springiness, cushion, and lightness while also still maintaining some of the springiness that you need for the shoe to maintain its snappy ride as you're getting through the trails.
J-Frame
J-Frame is basically a denser EVA foam that acts as a support system from Hoka. For more details on this, you can jump down to "Which company has better support shoes?"
Both Hoka Arahi and Hoka Gaviota feature a dual-density foam setup. There's a harder foam that makes the more dense J-Frame compared to the compression-molded EVA foam on the outside of the midsole.
Which company Fits Better?
Both companies are known to have some of the best-fitting running shoes. However, I lean a little bit toward Brooks because they seem to be constantly innovating.
For example, the Glycerin fits better and got a little bit wider compared to previous versions which ran narrow.
So, if you're somebody who was sort of crammed in the Glycerin 19, you'll just feel a little bit better being true to size in this shoe than you were in previous iterations.
Overall, the fit of the Glycerin is accommodating without being too roomy and the lockdown is pretty good, especially in the midfoot.
We talked about how Brooks are developing new cushioning setups to cater to different running needs and how they have created a GTS version of nearly all their running shoes.
Now, they're doing the same thing with their uppers.
So, in terms of the upper materials, Brooks are using a 3D Print design that's going to add a little bit of extra support through the upper
But recently, they have introduced a new upper configuration called StealthFit that they're gradually incorporating to their models.
Related:
Brooks Stealthfit
So, after the success of the Levitate StealthFit, now Brooks has launched the Glycerin 20 StealthFit and the Glycerin 20 GTS StealthFit.
For example, the StealthFit edition of the Glycerin 20 basically has a knit upper that's going to provide a much more snug, much more sock-like feel compared to the original upper which offers more room in the toe box.
It's very secure and doesn't have much give to it and so it is designed to keep your feet really well contained.
The padding on the back of the ankle and Achilles area is moderate, but because of the elastic nature of the tongue, you might get a little bit of lace pressure if you try to really secure it down.
The StealthFit is comfortable, but it just wasn't ideal compared to the regular version.
In my opinion, if you want a running shoe that could serve as a lifestyle shoe, I think the StealthFit version looks so much cooler than the original.
Which company is good for wide feet?
When you run, your feet tend to swell, and imagine the discomfort you would have if you have wide feet.
Brooks shoes are really accessible to a wide range of runners coming in four widths: narrow, standard, wide, and extra wide as well as sizes I believe 7 through 15 in men's.
So part of the reason why their road running shoes are so popular is their shoes have a wider toe box and Brooks have expanded the sizing options to so many people, which is a really big plus for this shoe.
Most Hokas are kind of narrow and so you might want to go to the extra wide sizes if they have those available.
However, it seems Hoka has improved the width of their shoes, but I would still pick Brooks over Hoka if wide is what you're looking for.
So in terms of the Clifton for example, if you have a narrow midfoot/heel area and regular to slightly wide forefoot, the Clifton should fit well and feel great.
So, if you're looking for some shoes that fit narrow feet properly, give it a read!
Related:
Which company is more durable?
In terms of durability, we shouldn't be comparing let's say a race-day shoe with an everyday shoe.
Everyday shoes, like the Brooks Ghost and the Hoka Clifton:
Are designed to be used the most in your running shoe rotation
Are designed to balance comfort, cushioning, durability, and versatility
Have thick rubber coverage underneath, deeper lug patterns, and harder rubber in the heel
… which in turn makes these shoes heavy.
Race shoes or speed shoes are designed to be super light to help you get some PRs. To be able to make them super light, companies use minimal rubber underfoot and little to no padding through the upper.
That's why everyday running shoes can last 500+ miles before they bite the dust while speed shoes could get you between 200-400 miles in general.
Related:
Hoka
I'm sad to say that even though Hoka have some of the best-selling shoes on the planet, they are not that great in terms of durability.
However, their uppers don't loosen up and you won't struggle to get a good lockdown. The upper just stays as comfy as it is from mile 1 to mile 300.
The majority if not all Hoka's midsoles and outsoles tend to really deteriorate quite quickly. Even at 100 miles, we can see loads of visible wear through the outsole, which is relatively quick, especially for everyday running shoes.
Why is that?
The fact that most Hoka shoes wear out quickly on the outsole is because they want to keep the weight down by reducing the amount of rubber they use on their outsoles.
Looking at their outsoles, you'll see that carbon rubber or blown rubber is placed only in high-wear areas while the rest of the outsole has exposed midsole foam.
But with some of their newer models like the Clifton 8 and the Mach 5, Hoka are really trying to work on that. It seems Hoka are trying to reconfigure their foams and rubbers to be more durable while still using a lot of exposed EVA to keep the weight down.
But is there any benefit to having exposed midsole foam through the outsole?
Yes. With fully exposed outsoles like in the Mach 5 or partially exposed outsoles like in the Clifton,
Your shoes are going to be lighter and more nimble
You do get to feel more of that midsole performing rather than it being dampened by the rubber outsole underneath it
Let's see how some Hoka shoes do in terms of durability…
Related:
Hoka Rincon 2 vs 3
The Hoka Rincon 2 wasn't really durable. After 100 miles, the foam started to pack a little bit and there was definitely some loss of cushion where the foam had compressed.
Also, the Rincon 2 took a beating through the midfoot area, which is bad news for midfoot strikers.
The good news is after 150 miles, there was definitely far less wear on the Rincon 3 than what we'd seen on the Rincon 2 after only 100 miles. Plus, the midsole is starting to show some compression but nothing crazy that I would be overly concerned with after 150 miles.
Its seems Hoka are using quite a bit more rubber on the Rincon 3, which is really helping with the durability. I put about 300 miles in the Rincon 2, and I think the Rincon 3 would easily go to 350-400 miles.
In terms of the upper, the Rincon 3 still looks really good. It's a good upper and it's going to outlast the midsole and outsole.
Overall, compared to the Rincon 2, on the Rincon 3, the midsole is holding better and the outsole is holding a lot better because of the addition of that rubber.
Related:
Mach 4 vs 5
The Mach 4 was a staple shoe in a lot of people's lineups. Then the Mach Supersonic was a little bit of an upgrade, but that shoe actually didn't add anything new to the Mach series.
When we knew the Mach 5 was going to get the same tooling as the Mach Supersonic, we weren't as excited as we were originally. I'm happy to tell you that the Mach 5 is a huge upgrade over the Supersonic.
The EVA foam that they're using on the Mach 5 is a big improvement over the Mach 4. But just like the Mach 4, the Mach 5 doesn't have an actual outsole, which was the only real area where people were critical.
To keep the weight to a minimum, Hoka isn't using traditional rubber coverage on the outsole like what you find on the Clifton or Bondi series. Instead, they're using 100% exposed rubberized EVA with no rubber pods like in other Hoka shoes.
Adding a few rubber bits would actually add more durabiliry, but I think Hoka want to keep the Mach as light as possible by including a fully exposed rubberized EVA outsole.
However, the exposed EVA outsole on the Mach somehow managed to hold up pretty well after 300 miles. It is doing a good job in terms of protecting that ProFly midsole.
Yes, it's wearing down a bit faster compared to other shoes from other companies, but to be honest, the Mach is starting to break the mold of most of the Hokas that I've run in.
But to be able to get 300-400 miles out of a light shoe that you can practically do anything in is exactly what you would expect with the Mach 5.
Overall, Hoka managed to get a really good thing, not mess it up, and they made it even better.
Related:
Hoka Clifton 7 vs 8
Just like with other Hoka shoes, durability on the Clifton series has been a concern that a lot of runners have been mentioning over the years.
The good news is the Clifton 8 is a bit more durable than the Clifton 7. Hoka added a couple more pods along the outsole in some of the areas where the exposed compression molded EVA of the Clifton 7 took the most beating.
Also, because they made those changes to where that rubber is, I think there's very little damage to the exposed EVA.
So, runners are still getting the benefit of having exposed foam in terms of lightweightness plus you do get to feel more of that midsole performing rather than it being dampened by the rubber outsole underneath it.
Overall, I think Hokas are not shoes to grab if you're looking for 300+ miles out of your shoes.
Now for Brooks…
Brooks
Compared to Hokas, the majority of Brooks' shoes barely show any signs of visible wear after 100 miles.
So, if Brooks are going to be your primary shoes, you should expect to get that 350-500 mile life expectancy of your shoes.
The great durability on Brooks shoes is mainly attributed to the outsole. After putting a lot of Brooks shoes through many thorough torturous tests, the outsoles always tend to perform exceptionally well in terms of durability without any real rubber reduction or damage.
I feel I don't need to say more about this because, in terms of outsole durability, Brooks wins this one by large.
Which company has better stability shoes?
First off, let's compare stability/support shoes to neutral shoes…
Really, which one you need is going to come down to you and your individual biomechanics.
A runner who needs a support shoe is a runner who:
Has some overpronation meaning their foot and ankle collapse inward
Maybe has excessive knee shift inward or outward
Maybe just doesn't have very good alignment between their hips, knees, and ankles
A neutral shoe is going to benefit a runner whose feet experience less deviation. For neutral runners, hips, and knees team to move in a pretty parallel and straightforward fashion when running through their gait.
So, neutral runners don't necessarily need those built-in medial posts, dual-density foam, GuideRail pieces, or anything other stability systems.
Let's look at the Brooks Adrenaline GTS which is a stability shoe and the Brooks Ghost which is a neutral shoe…
The main difference between the Ghost and the Adrenaline GTS is that along the lateral and medial sides of the Adrenaline, there are two sidewalls called GuideRails, but the Ghost has none of that.
What that means for the Ghost is when your foot lands and goes through its natural strike pattern, there's nothing there to kind of bump it one way or the other.
In short, neutral running shoes are designed to complement your running style instead of trying to correct and fix you like support shoes do.
Here's our detailed comparison of the Brooks Adrenaline vs Ghost.
Brooks' Stability Shoes
Stability shoes that you may recognize are the Adrenaline GTS, Launch GTS, Levitate GTS, and Glycerin GTS. Simply, Brooks adds "GTS" to their running shoes to designate that it's a stability shoe.
Let's talk about Brooks' best stability running shoe…
Brooks Adrenaline GTS
The Adrenaline GTS is one of Brooks' best-selling shoes. It was really perfected and engineered for a really balanced ride and fit.
According to Jim Weber (CEO), the development of the Adrenaline GTS running shoe really saved the company.
While Asics long dominated the market in the support category of running shoes, the development of Brooks' GTS helped earn the runner's trust in Brooks' shoes.
But when Brooks first released the Adrenaline GTS 19, fans of the Adrenaline line were really concerned. Brooks actually ditched the classic medial posting which would always try to force you out no matter what you were doing.
Instead, they went for a new "holistic" support system called GuideRails which do offer support on both sides. GuideRails are essentially those raised sidewalls on both the lateral and medial side.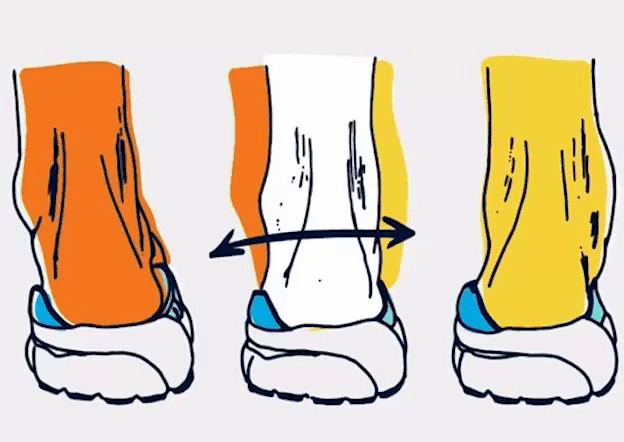 The GuideRail on the medial side reduces the rolling of the foot medially (overpronation) while the outside GuideRail is firmer and a little bit higher so it's going to reduce the shifting of the heel in the lateral direction (underpronation/supination).
Brooks claim that the GuideRails only activate when your foot needs them. So, if you're a neutral runner and you have no side-to-side issues, you can still wear their GTS shoes and the GuideRails won't interfere with their running style.
Related:
Here's what Brooks have to say about GuideRails…
Hoka's Stability Shoes
Hoka Arahi and Gaviota
If you haven't tried the Arahi or Gaviota before, their ride is definitely on the firmer end compared to the Clifton, Bondi, or Rincon. The big reason for that is you have two different kinds of compression-molded EVA foam setups.
The forefoot features a softer foam while a harder foam, which makes the J-Frame support system, goes from the lateral side, wraps around, and pretty much extends all the way up on the medial side.
What exactly is the J-Frame and why is it important?
Well, the J-Frame is the technology that allows the Arahi and Gaviota to provide that stable ride for overpronators who need more support through their gait cycle. The picture below shows why Hoka is calling it J-Frame.
Essentially, this J-shaped system works really well for people who overpronate.
But why would Hoka have two similar stability shoes in their lineup?
First, The Arahi is the stability partner of the Clifton and the Gaviota is the stability partner of the Bondi.
Simply put, the Arahi is the more classic stability shoe for mild-to-moderate overpronators and the Gaviota is for moderate-to-severe overpronators.
So with the Gaviota, you're looking at Hoka's premium ultra-max cushion stability daily trainer around.
Here's our more in-depth comparison of the Hoka Arahi vs Gaviota.
So, which company has better stability shoes?
I guess the answer is quite obvious. Brooks is the better company when it comes to stability because:
Hoka has only two stability models, the Arahi and Gaviota.
Brooks has the Adrenaline GTS, Beast/Ariel, Glycerin GTS, Levitate GTS, Launch GTS, and Addiction GTS
Hoka's J-Frame only provides support medially
Brooks' GuideRails provide support medially and laterally.
Which company is better in terms of innovation?
I think we've already answered this question before and said that Brooks are actually really working hard on innovating their midsole and upper materials.
But I'm sad to say that what was once one of the most innovative running shoe companies in the world that really started the high-stack movement that the majority of shoes are moving to these days is kind of being stagnated in today's market.
I think a lot of companies are out-innovating Hoka. However, that doesn't mean that their shoes aren't still great in 2022, but it's just that a lot of other companies are bringing some new stuff to the table.
What if you want a shoe to be as sustainable as it is good for your run?
Which company has more sustainable shoes?
In 2016, HOKA actually joined the United National Global Compact (UNGC). On their website, Hoka put the new Solimar and Kawana under their vegan running shoe page. However, reading through the description of these shoes, I found no info regarding how these shoes are made in terms of sustainability.
The only information I could find is that over 96% of their packaging is FSC certified from recycled and responsibly managed forests.
Jim Weber announced that the Brooks Ghost 14, which is probably the best-selling solid mileage shoe on the planet, is now a carbon-neutral shoe. This is not a concept shoe or an entry-level shoe, it's their largest-selling shoe.
This is the first high-volume neutral shoe in the marketplace. It's going to be interesting to see how lovers of the Ghost series respond because the Ghost is up 77% and selling stronger than their overall top line is.
With Brooks People And Planet Path and this attribute of carbon neutrality, I think this move is going to engender trust from a lot of environmentally conscious runners that maybe haven't looked at Brooks before.
This is Brooks' path to carbon neutrality:
Move to 100% recycled polyester footwear by 2023
Again, Brooks is the winner when it comes to sustainability.
Related:
Which has better trail running shoes?
In my opinion, this round goes to Hoka hands down.
Let's talk about Hoka's best trail shoes a little bit, the Hoka Speedgoat…
The Hoka Speedgoat 5 has come a long way since its abysmal first offering. After the popularity and success of the Speedgoat 4 and knowing that Hoka has done away with their stellar Speedgoat EVO, I had high hopes and heavy concerns that the Speedgoat 5 would be a drastic change to a model that had clawed its way back to be an ultimate performer.
Well, I'm happy to report that the Speedgoat 5 brings the goods and delivers what Speedgoat fans were hoping for: familiarity and advancement.
Coming in a half ounce lighter than its predecessor, the Speedgoat 5 features:
An entirely new jacquard mesh upper that brings the weight down and durability up
A new yet familiar EVA midsole cushioned stack
A delicious grippy Vibram
A new stretchy vamp
Lighter laces
Readjusted tongue shape
A thinner gusset
Hoka's swallowtail heel counter
Less welded overlays
A soft springy ride that Speedgoat fans will feel right at home in while enjoying hours of trail fun
Which company is more affordable?
While a lot of Hoka and Brooks models are fairly comparable in terms of pricing, generally speaking, Brooks have a lot more affordable options than Hoka.
Part of the reason why the Ghost series is the best-selling Brooks shoe is because it's really affordable and durable, which is a combo that everyone really appreciates.
Hoka vs Brooks – History
History of Hoka
Hoka One One, which is now known as just Hoka, was founded by two former Salomon employees, Nicolas Mermoud and Jean-Luc Diard. Hoka One One translates from Māori meaning "Time To Fly".
In 2009, these athletes just wanted to put double stacks of midsole foam on their trail shoes so they could just descend steep and rugged French terrain as fast as they could without it taking too much of a toll on their bodies.
Move to maximalism
At this time, there was a strong minimalistic footwear movement, and about 1/3 of the running shoes in the market were minimally cushioned.
Nicholas and Jean-Luc couldn't help but notice that other sports weren't adherent to minimalism.
They saw that mountain bike wheels were getting bigger and the skis were getting oversized and so they decided to design their own footwear under a brand that incorporated these concepts.
Quite interestingly in the early days of Hoka, they would cut off the soles of the old Salomon shoes and attach their new midsoles to the shoe to test their concept out.
But aside from this, the DNA of their new brand was easy to notice. Firstly, their shoes would have oversized midsoles that would have a lot more cushioning underfoot than your typical running shoe.
They call their cushioning setup the bucket seat meaning that your foot wouldn't sit on the cushioning but in it so that your foot is cradled to be kept transversely fixed.
Their shoes also aided a good base of support by having a broadened outsole to give you an oversized footprint.
Now, shoes are more cushioned than ever before, and almost all major running brands have a Hoka'esque running shoe in their lineup.
Unlike the minimalistic footwear movement which had a quick rise and fall, maximalist footwear isn't as much a movement as it's a progression of running shoe tech.
Today, Hoka has multiple lines of running shoes, but all of them have one distinctive feature – the oversized midsole. Actually, even their flip-flops and sandals have oversized midsoles.
Rocker geometry
Hoka shoes would also mimic a rocker shape similar to a wheel which promotes a fast turnover despite having a thick sole.
Underfoot, their shoes are soft and forgiving but rigid to bending stiffness, which allows the shoe to get that rolling rocking chair effect.
This forefoot rocker geometry makes Hoka shoes some of the best running shoes for forefoot issues like Hallux Rigidus.
CMEVA
The biggest innovation they were able to achieve was developing a super light foam which essentially allows this design to even be possible.
Their foam has a great cushioning-to-weight ratio and essentially allows the shoe to be twice as cushioned as the traditional running shoe despite weighing pretty much the same.
Prior to Hoka, there was a brand called MBT that manufactured well-cushioned rockered shoes, but they weren't able to produce performance running shoes or shoes with soft midsoles.
So, what Hoka developed was a game changer in fact, which had a massive influence on the footwear industry as a whole.
Hoka's first shoes
Hoka's first commercial running shoe, the Mafate, was a great success. People loved it so much so that they began wearing it on the road.
Hoka then birthed their first road-specific shoe, the Bondi B, which was essentially the Mafate minus its trail-specific outsole.
The brand began resonating with all categories of runners. Novice runners enjoyed it, podiatrists recommended it to clients, and ultrarunners validated it. Soon, the brand began picking up a lot of momentum.
Problems Hoka faced
While Hoka shoes were novel and growing nicely, they were criticized for looking like clown shoes.
Part of the problem was that consumers weren't used to seeing chunky running shoes, but that sort of sorted itself out over time as consumers got desensitized to Hoka.
The other problem was that Hoka didn't adapt the most contemporary silhouettes and colorways.
This is something that Hoka have drastically improved on so much so that they're now a fashionable and edgy brand.
Hoka in the market
In late 2012, Hoka One One was purchased by Deckers Brand which is the parent company for UGG, Teva, and other footwear brands.
Looking at their financial statements, one of the things that I thought was really interesting is that it seems to me that right now Hoka is about $500M yearly sales company.
And one of the things they have as a goal for the future is to turn Hoka into $1B dollar-a-year brand. I think that the main way that they're going to be doing that is by providing performance at the core of their product promise, but I think that they also have to expand to different core categories as well other than trail running.
Also, to hit that $1B a year mark, Hoka is introducing some weird-looking shoes like the TenNine and opening up a new Gym & Training category to the Hoka brand in 2022.
The TenNine trail shoe seems to be a very popular shoe and I think it's selling well.
New Running/Gym Category
So, in 2022, Hoka released the Kawana and the Hoka Solimar. These are advertised as being running/gym shoes.
Just like the Bondi and Clifton, the Kawana is named after a place in Australia and the Solimar after the famous Southern California Solimar Beach.
According to Hoka, the Kawana and Solimar are brand-new shoes made for running, walking, the gym, and everyday life.
So, these are running shoes and so running is at their core, but while they're designed for runners, they're also designed for people who maybe don't do running as their primary activity.
These are for some people that maybe run a couple of times a week as part of their overall fitness but are also doing a lot of other stuff like group fitness, hitting the gym, and doing a little bit of cross-training.
I think having this kind of approach is completely fine because there's so much else in the Hoka lineup that still makes sense for avid runners.
Related:
Hoka Collabs
We have the Hoka Speed 4 collab with thisisneverthat (This Is Never That). Thisisneverthat is a design house based out of South Korea which is like South Korea's answer to Supreme. So, to hear that they're doing a collab version with Hoka is really quite remarkable.
Hoka had done some other collabs with some other brands that are kind of in the same space.
They did a collab with Cotopaxi, and at about the same time, they did a collab shoe with OV (Outdoor Voices).
To get this collab with something that's not trail and running related, I think that was a really big move and a really big win for Hoka.
Hoka went back and did collab versions of some older versions like the Moncler x Hoka One One Mafate.
From that as well, they're also doing kind of a streetwear version of the Mafate 2. The Mafate 2 is not a collab version, but it is definitely geared towards just casual wear.
Overall, I think the thisisneverthat x Hoka Speedgoat, the TenNine, the Kawana, and the Solimar are going to be historically significant for Hoka because it just opens up new avenues for them.
History of Brooks
I'm going to focus more on the time when Jim Weber became the CEO of Brooks in 2001.
Before Jim, Brooks had been a traditional athletic footwear and apparel brand. Just like Adidas and Nike, Brooks had products in almost every category and every sport:
Running shoes
Walking shoes
Baseball cleats
Football cleats
Basketball shoes
Court shoes, and the like.
The problem was they were very small and they didn't have the marketing budgets or the brand awareness to compete in all of those areas. Plus, they were in a lot of debt ($40M).
During the first year of Jim, they generated a lot of cash by eliminating product lines, selling inventory, and focusing on performance running shoes.
However, it was still a challenging puzzle for Brooks because they needed to find a place to win after all the other running shoe companies had been doing great.
Jim decided to focus on the sport of running and get rid of everything that wasn't running-related, which was 50% of their product line and about 45% of their sales. That was a bold move!
They also got rid of their biggest customer, Big 5, because they were positioned as a $30 shoe there.
So, they decided to focus on performance running shoes which were $80 and up and had good margins. It was a bumpy transition because no one in the industry had ever really done that before. Brooks were pretty confident it would work because they'd done the analysis. And yes. It worked big time for them.
Brooks in the market
Jim has been the CEO of Brooks for 21 years and is responsible for taking the company from near bankruptcy when he joined in 2001 to its current stands today generating over $1B in revenue per year.
Jim took Brooks from being a mediocre shoe brand with a wide range of products to a market leader in running shoes and apparel.
Last year, Brooks beat up old Nike and Adidas for the market leader position in adult running shoes in the US.
That's it folks. Thank you very much for making it to the end of this hefty Hoka vs Brooks comparison.
Io hope you're staying safe out there and see you in the next one.